It aims to develop novel simulation techniques to provide a virtual testing environment for assessing, analysing and developing biological and technical concepts. This enables development of novel automation techniques with key advantages in interaction with soft tissues which undergo large deformations. The specific emphasis will be on modelling, simulating, and verifying the complex nature of the soft tissue, particularly, the multi-scale nature of active and passive skeletal muscle tissue. The applicability of these methodologies to automation will depend on the interplay between (i) detailed and realistic simulations on high-performance and hybrid computing environments and (ii) reduced models that allow fast, ideally real-time, simulations while exhibiting small errors.
Principal Investigators:
Prof. Dr. Bernard Haasdonk

Prof. Dr. Miriam Mehl

Prof. Oliver Röhrle, PhD

JP. Dr. Syn Schmitt

Prof. Dr. Jörg Wrachtrup


A/Prof. Thor Besier

Dr. Christopher Bradley

Prof., Peter Hunter

A/Prof. Mark Sagar
Contact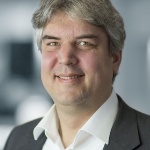 Univ.-Prof.
Oliver Röhrle
PI and Spokesperson GRK 2198
[Photo: Universität Stuttgart]