The main aim of this focus area is on the automation concept of the robotic devices that interact with soft tissues. This interaction leads to completely new requirements that need to be fulfilled by the robots. Automating a new robot needs basic research on developing novel sensors, actuators, control systems and kinematic behaviour. Known automation concepts of robots for interaction with hard materials have to be evaluated, adapted and enhanced to suit new requirements. Reseach Area A and Reseach Area C will provide a better understanding of the static and dynamic behaviour of soft tissue and allows derivation of requirements for interaction. In addition, simulation models are directly integrated in the automation concept to improve the interaction process.
Principal Investigators:
Prof. Dr. Frank Allgöwer

Prof. Dr. Bernard Haasdonk

Dr. Armin

Lechler

Prof. Dr. Nejila Parspour

JP. Dr. Andreas Pott
Prof. Dr. Marc

Toussaint

Prof. Dr. Alexander Verl

A/Prof. Bruce MacDonald

Patrick Lim

Prof. Shane Xie

Prof.

Peter Xu


Prof.

Xun Xu
Contact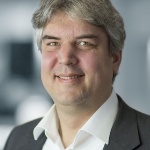 Univ.-Prof.
Oliver Röhrle
PI and Spokesperson GRK 2198
[Photo: Universität Stuttgart]