The main aim of this focus area is the scientific evaluation and design of new algorithms to generate motions of robot kinematics, which interact with soft tissues. To do so, new concepts and algorithms need to be developed to measure and analyse sensor data of the robot or data originating from the (biological) tissue to generate new set points for the actuators. In close collaboration with Reseach Area A, biological principles of motion generation are analysed to develop algorithms for online-parameterisation during operation of the robot. These designed algorithms have to be implementable in existing control architectures or in the new control architecture developed in Research Area B. The integration in technical environments needs these algorithms to feature real-time behaviour. Here, real-time means a deterministic behaviour with calculation times in the order of milliseconds.
Principal Investigators:
JP Dr. Andreas Pott

Prof. Dr. Oliver Röhrle

JP. Dr. Syn Schmitt




Prof. Dr., Alexander Verl

Prof. Dr. Jörg Wrachtrup

A/Prof. Iain

Anderson

A/Prof. Thor Besier

Prof. Dr. Leo Cheng

Prof. Peter Hunter

Prof. Peter Xu

Dr. Mike

Arnold
Contact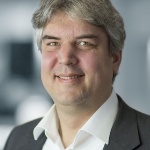 Univ.-Prof.
Oliver Röhrle
PI and Spokesperson GRK 2198
[Photo: Universität Stuttgart]