General Information
When?
Dates
June 18-22, 2018 - Demonstrator Challenge
June 27-29, 2018 - Doctoral researcher conference
July 3-6, 2018 - IRTG STR Conference
Where?
The demonstrator challenge will take place at the Institute for Control Engineering of Machine Tools and Manufacturing Units (ISW) (Seidenstr. 36, D-70174 Stuttgart).
The doctoral researcher and IRTG STR conferences will take place at Campus.Guest, Room 101, Universitätsstraße34, 70569 Stuttgart.
Agenda
The rubber hits the road! After months of planning, the demonstrator challenge will kick-off at the University of Stuttgart. Both the biomechanical and robotics teams will have only five days to turn thier ideas into reality.
Contact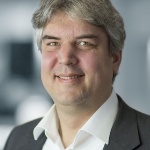 Oliver Röhrle
Univ.-Prof.
PI and Spokesperson GRK 2198
[Photo: Universität Stuttgart]